Mayflower Manor gets new life
Modern renovations bring affordable housing to senior adults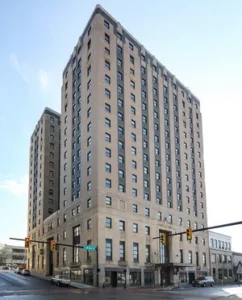 Akron's historic Mayflower Manor has new life and is experiencing its own vibrant second act, as it serves as a completely restored and renovated apartment community for seniors ages 55 and older or disabled residents.
After the new owner's investment in excess of $20 million, every apartment offers all new appliances, cabinets, kitchens, bathrooms, air conditioning and heating, flooring and updated fixtures. Amenities include a library with reading spots, a computer room, a TV room, a large gaming area and tables for social activities. The laundry facilities and inviting fitness room each have all new machines and equipment.
Mayflower Manor has controlled entry and 24-hour onsite security, and it is located on the city bus line, making it easy for residents to be independent and remain connected with their community and all that it offers. Within blocks, residents can enjoy restaurants, theater, music, green spaces and much more. Rent is based on income, which means residents enjoy a high quality apartment home in a prime historic location for a price that fits their budget.
Because life is better with friends, the building features a wealth of spots for sharing time together. Residents can spend free time playing a game of chess, walking on a treadmill, engaging a neighbor in a game of pool, and adding their stories to the history that surrounds them. The building becomes home as life and laughter bring people together. And four-legged friends are welcome in apartments, too.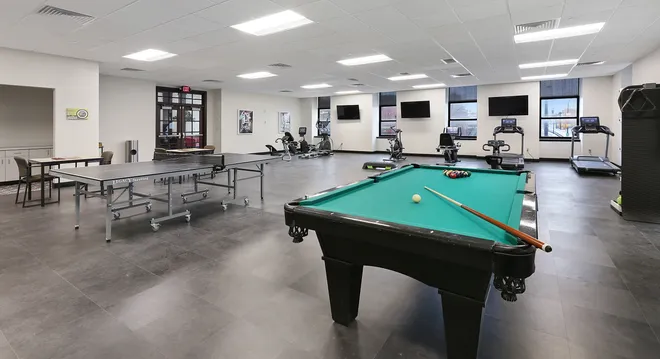 The building is wheelchair accessible, and it offers both 24-hour maintenance and high speed internet. Mayflower Manor also has residential coordinators to assist residents with the resources they need.
Apartments are designed for individual comfort with bright windows and arched nooks that serve as a reminder that the modern living spaces are steeped in history. The building's shared areas retain their period charm, with luxurious woodwork and other details restored to their former glory.
History meets modern amenities in this stunning, renovated space, where Mayflower Manor offers options to make residents truly feel at home. A wide variety of floor plans are available, including studios, one-bedroom and two-bedroom apartments. Mayflower Manor is a HUD-approved property for seniors ages 55 and older and disabled residents. Rent is income-based, which means approved applicants never spend more than 30 percent of their income on rent. The result is a blending of design, form, elegance and function – all in an affordable, quality community with professional and compassionate management.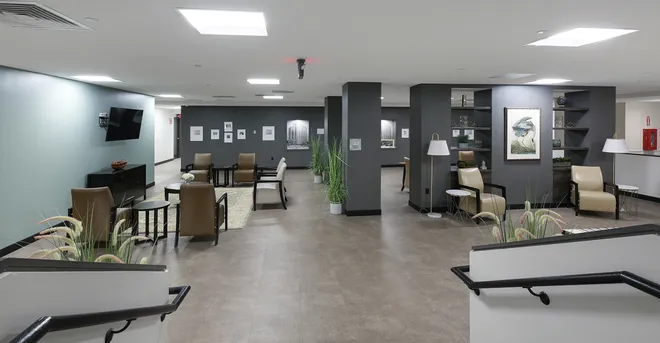 When it opened in 1931, Mayflower Manor – then, the Mayflower Hotel –was an elegant spot on Akron's Main Street, hosting a who's who of guests including Shirley Temple, Fred Astaire, Jimmy Stewart, Ronald Reagan and Katherine Hepburn.
The 16-story art deco building was one of the city's earliest high-rises, and it functioned as a hotel until 1971. The history of the property is rich and filled with memorable nuggets, including the story that Alcoholics Anonymous was born from a call placed from the hotel by one of the organization's founders as he sought the help and support he needed. It is part of Summit County's South Main Street Historic District, which is listed on the National Register of Historic Places, representing one of Akron's most significant buildings from the area's early-1900s development.
The Capital Realty Group owns and manages Mayflower Manor. Based in Spring Valley, New York, The Capital Realty Group has deep expertise in the acquisition, development and management of affordable housing communities.
Seniors ages 55 and older and disabled residents can apply for residence at this low-income, HUD-approved property by contacting Mayflower Manor today at mayflowermanorapartments.com or 330-762-7518. The property is located at 263 S. Main St., Akron, Ohio, 44308.